S.E.U.D.

by Jonathan Cauldwell

for
SINCLAIR ZX SPECTRUM 48K



S.E.U.D. (Shoot 'em up Designer) is an all in one package that allows you to create your own arcade shoot 'em up games, including graphics, backgrounds, attack patterns and much more. Also, unlike other packages, S.E.U.D. creates
a real stand-alone game, that runs independently from the main program. Never before, have you had such real control over
your creations!



10/10
OLDSCHOOL GAMING

"This thing does exactly what it says on the tin, it gives the average user the tools required to make their very own shoot 'em up and, considering my own love for that genre, it'd probably be pretty much impossible for me to dislike the thing"
BUY IT NOW on CASSETTE TAPE
(FREE POSTAGE UK ONLY) £5.99

EMULATOR ONLY VERSION
AVAILABLE £2.99








INTERNATIONAL BUYERS:

(Non UK Buyers, please remember to
add a one off flat rate "per order" shipping charge)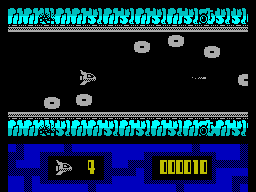 Some games created using
SEUD
Created with an unregistered version of
WebsitePainter
(This text will not be visible anymore once you
buy
Website Painter)